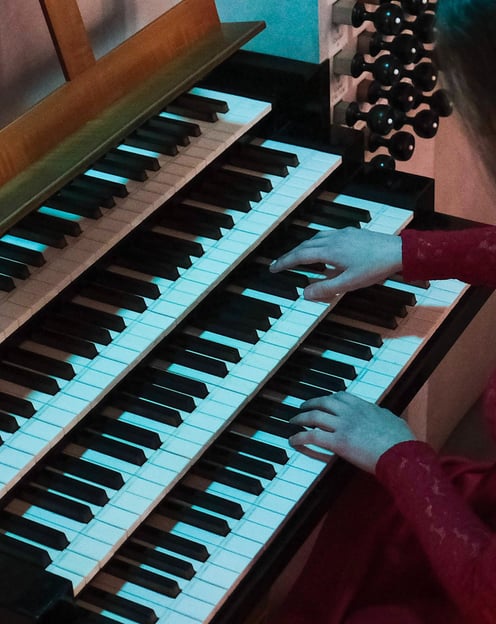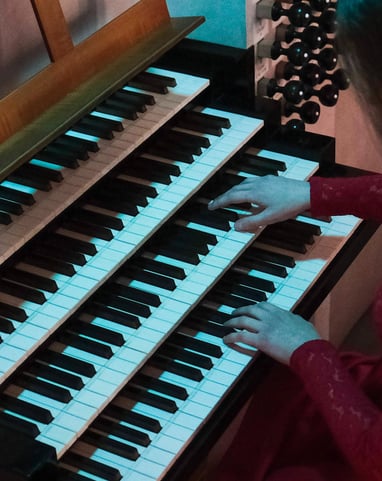 American organist Celina Kobetitsch regularly appears in concerts throughout Europe and the United States. Celina Kobetitsch is currently the Associate Director of Music at Trinity Episcopal Cathedral in Little Rock, Arkansas. She has been the recipient of multiple prestigious honors, including awards from the U.S. Fulbright program as well as the DAAD postgraduate music program. In 2022, she was awarded first prize at the Fugato Organ Competition in Bad Homburg as well as the Ruth and Paul Manz Organ Scholarship from the Lutheran School of Theology Chicago.
Celina completed her master's degree at the Hochschule für Musik Leipzig Felix Mendelssohn-Bartholdy, where she studied with Martin Schmeding and Nicolas Berndt, while also pursuing minors in harpsichord with Tobias Schade and choral conducting with Tobias Löbner. Earlier, she completed an "en perfectionnement" artist diploma at the Conservatoire de Toulouse, studying organ under Michel Bouvard and harpsichord with Yasuko Bouvard. Her international studies were made possible by U.S. Fulbright Scholarships, DAAD postgraduate music grants, and awards from the Cologne Foundation.
Having performed concerts at major venues such as St. Nicholas Church in Leipzig, St. Wenzel's Church in Naumburg, the Basilica of St. Sernin in Toulouse, among many others, Celina has gained experience on some of the world's most magnificent organs. Although she has established herself as a skilled organist, she also possesses a strong background in piano and completed her Bachelor studies at Oberlin Conservatory of Music in the USA, where she studied both piano and organ. During her studies in the USA, she was organist for Bethany English Lutheran Church in Cleveland, Ohio as well as interim organist at Bay Presbyterian Church. After ten years of teaching experience and the Carol Nott Prize for Excellence in Piano Pedagogy, Celina remains passionate about pedagogy as well as chamber music. She continues to perform with many ensembles and soloists as pianist, organist, and harpsichordist.